Regular Emu Oil (7)
Emu Essence Naturals™ Pure Emu Oil
Emu Essence Naturals™ Pure Emu Oil is a safe and effective treatment for overall skin care. Use this remarkable, nutrient rich oil to help nourish and protect your skin resulting in a healthier more youthful look and feel. This is our regular emu oil that is refined using our standard refining process. The healthy benefits of this type of emu oil have been documented through peer reviewed medical research.
Emu Essence Naturals™ Pure Emu Oil is an odor free, non-greasy oil with a rich, creamy consistency. This is pure emu oil and doesn't contain any fillers, dyes, perfumes, or other types of oils. It's a natural trans-dermal source of Omega 3, 6 and 9. Each batch has been independently tested and AEA certified to meet Fully Refined Grade A standards to ensure its purity and potency.
Learn more about the healthy benefits of emu oil.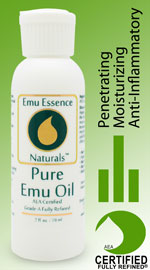 Pure Emu Oil 2 oz
Rating:
Write your own review!

Regular Price:

$21.95


Sale Price:

$18.95

Pure Emu Oil 4 oz
Rating:
Write your own review!

Regular Price:

$33.95


Sale Price:

$29.95

Pure Emu Oil 8 oz
Rating:
Write your own review!

Regular Price:

$52.95


Sale Price:

$49.95

Pure Emu Oil 32 oz
Rating:
Write your own review!

Regular Price:

$179.95


Sale Price:

$139.95

Pure Emu Oil 8 oz Twin Pack
Rating:
Write your own review!

Regular Price:

$105.90


Sale Price:

$95.31