Looking for AEA Certified pure Emu Oil?
We offer a full line of Premium Emu Oil Products plus two types of pure emu oil,
Emu Essence Naturals™ Regular Emu Oil and CLEARLY EMU™ Ultra Clear Emu Oil.
What type of pure emu oil should you buy?

Looking for quality emu oil products?
Whether you are looking for an emu oil product for
pain management
,
skin care
, or
hair care
we offer a solution. Our emu oil product formulas offer maximum absorbency and effectiveness. This is achieved through the careful blending of our pure emu oil along with natural, high quality botanical ingredients. The resulting formulations achieve a synergistic impact, which enhances their effectiveness. These
emu oil product formulas
quickly penetrate into the skin delivering a more powerful, longer lasting effect making them a great value for your money.
All of our emu oil products are made in the US with AEA Certified emu oil sourced from our network of US emu farms.
When you purchase from us you can buy with complete confidence. You will receive high quality products that will meet your needs backed by our 60 day money back guarantee, and award winning customer service.
So what are you waiting for? Let emu oil work for you today!
---
Why is emu oil so beneficial?
The answer lies in the natural fatty acid composition of emu oil. Pure emu oil provides a balanced ratio of Omaga 3, 6 and 9 fatty acids. These fatty acids are needed by the body for proper function. Both Omega 3 and 6 are Essential Fatty Acids (EFA's). This means that our bodies can not produce them and must rely on us getting them from an outside source such as through our diets or through dermal absorption. When emu oil is applied topically these fatty acids are absorbed through the skin (dermal absorption). They can also be obtained when the emu oil is taken internally as a dietary supplement in the form of Emu Oil Gel Capsules.
Omega 3 EFA (alpha-linolenic acid) - A natural essential fatty acid that helps our bodies with many functions including combating inflammation. This is one reason why emu oil is used for aches, itching, redness and other types of inflammation.
Omega 6 EFA (linoleic acid) - A natural essential fatty acid that helps support overall skin and cellular health. This is one reason emu oil is frequently used for skin, hair, and nail health.
Omega 9 (oleic acid) - A natural mono-unsaturated fatty acid which is the key to emu oil's ability to be readily absorbed through the skin and to its effectiveness as a transdermal carrier. Omega 9 is also very beneficial to the skin and is a great moisturizer and emollient. Since emu oil is mainly comprised of this fatty acid it is not surprising that it is used extensively to make the skin feel good. Besides all these amazing benefits Omega 9 helps fight inflammation.
In a nutshell - naturally derived emu oil combines all of these important fatty acids together to work in harmony and balance helping to promote better overall skin and body health.
---
---
Click on a condition listed below to find out what emu oil product we recommend.
---
Use Emu Essence Naturals™ PRO80 for Bruises - Customer Testimonial



The results speak for themselves ... click here to read more
---
Use Emu Essence Naturals™ Pure Emu Oil for Radiation Burns - Customer Testimonial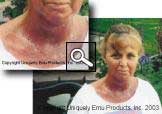 The results speak for themselves ... click here to read more
---
Come and watch this
video
on the benefits of Emu Oil

---
Read what our customers have to say about our products and services:
"I just want to tell you that I originally bought your company's pure emu oil years ago and I have been a huge fan and a believer ever since. Whenever anyone comes over to my house with any aches and pains, I immediately whip out the oil and I tell everyone I know about it. A friend of mine just got certified as a licensed massage therapist and she would like to incorporate emu oil into her massages. Your company and product is the only one out there that I would trust and recommend buying from."
- Megan O., New York
"It is a pleasure doing business with you. My husband loves to use the emu oil for after shaving. He never buys after shave now. He has a heavy beard. This oil keeps his face soft and moist. When he was nearing finishing the last bottle, he said, get me more right away. I put the oil all over my body and especially dry feet after every shower. Thank you."
- Diane
"Thank you for your wonderful MaxxiRub. I finally found something that brought me relief. I'd tried other creams and none gave me the relief like yours has, and without that smell that many of the creams had. Thank you!"
- Mrs. Betty W, IL - Read the actual letter Betty sent to us...
"I just wanted to comment on my shipment of emu oil that arrived yesterday. Your oil is the best I have come across... it has a wonderful texture, no odor and absorbs quickly and completely. Thank you!"
- Amanda