Ultra Clear Emu Oil (6 Products)
CLEARLY EMU™ Ultra Clear Emu Oil
CLEARLY EMU™ Ultra Clear Emu Oil is a great choice for use as a natural age-defying treatment. It is also used for aches and pains, problem skin and hair, scars, stretch marks, burns and wounds. This highly potent form of pure emu oil provides all of the skin nourishing benefits that our regular emu oil has to offer plus superior anti-inflammatory benefits and quicker absorption.
CLEARLY EMU™ Ultra Clear Emu Oil is an odor free, non-greasy oil with a liquid consistency. It is guaranteed to be pure emu oil without any fillers, dyes, perfumes, or other types of oils mixed with it. It's a natural trans-dermal source of Omega 3, 6 and 9. Each batch has been independently tested and AEA Certified to meet Fully Refined Grade A standards to ensure its purity and potency.
Learn more about the healthy benefits of emu oil.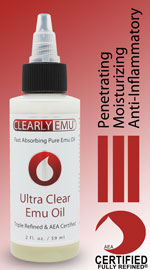 CLEARLY EMU Ultra Clear Emu Oil 1 oz
Rating: (3)
Write your own review!

Our Price:

$24.95

CLEARLY EMU Ultra Clear Emu Oil 2 oz
Rating: (3)
Write your own review!

Our Price:

$39.95

CLEARLY EMU Ultra Clear Emu Oil 4 oz
Rating: (2)
Write your own review!

Regular Price:

$68.95


Sale Price:

$60.00

CLEARLY EMU Ultra Clear Emu Oil 1 oz Twin Pack
Rating: (2)
Write your own review!

Regular Price:

$49.90


Sale Price:

$39.92

CLEARLY EMU Ultra Clear Emu Oil 2 oz Twin Pack
Rating: (1)
Write your own review!

Regular Price:

$79.90


Sale Price:

$63.92