Emu Oil for Treating Stretch Marks & Scars
Using Emu Oil for Stretch Marks & Scars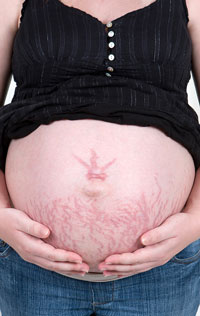 One of the newest uses of this remarkable oil is for the treatment of stretch marks and scars. Anecdotal evidence points to the effectiveness of emu oil for treating these damaged skin conditions. Whether stretch marks occur from pregnancy, weight gain or loss, or other causes, emu oil seems to be helping. The reduction of scar tissue formation from injuries and surgeries alike have also been reported. This natural omega rich oil has been used to minimize the development of stretch marks and scars, and to reduce the appearance of existing ones.
Read why this doctor recommends using our emu oil for treating episiotomy scarring.
The type of emu oil most commonly recommended for treating these conditions is our Clearly Emu™ Ultra Clear Emu Oil. This innovative form of AEA certified fully refined emu oil can be used anywhere on the body. It is non-toxic, hypo-allergenic, non-comedogenic, and a non-ocular irritant. It can be used on the body, the face, around the eyes, and even on sensitive body parts.
Why is emu oil good for stretch marks & scars?
Emu oil is a natural trans-dermal oil. It has the unique ability to penetrate deep into the skin tissue.
It is a powerful moisturizer. Emu oil helps replenish moisture to dry, damaged skin tissue allowing the skin to be more supple and pliable.
Emu oil is a natural source of the essential fatty acids (EFA's) Omega 3 and Omega 6. These are known to be vital to healthy skin. It is also a excellent source of Omega 9.
It is an anti-inflammatory agent. Inflammation can cause pain, itching, and redness which are common complaints from those suffering from stretch marks and scars.
How do you use emu oil for stretch marks & scars?
Using your hand, apply a small amount of emu oil onto the desired area and gently spread it around. Keep in mind that one drop of emu oil will cover an area about the size of the back of your hand, so judge the amount accordingly.
Apply more emu oil if needed to cover the entire area. Since emu oil penetrates the skin you do not need to rub it in all the way. It usually absorbs into the skin on its own within a few minutes. The skin should not feel oily when you are finished. If it does, you have probably used too much. Simply reduce the amount that you use next time.
Repeat several times a day or as needed.
Tip: Allow the emu oil to penetrate thoroughly before covering the area with clothing. This will reduce the chance of staining or discoloring of your favorite garments.
When you purchase emu oil from Uniquely Emu you can try it with confidence. We now offer a 60 day money back guarantee on all of our products. Make your purchase today, try it for 60 days, and see the results for yourself.
Personal Testimony
I would also like to share with you my personal testimonial. Keep in mind that I was using emu oil to treat a different condition and the resulting benefits for my stretch marks and surgical scarring were a side benefit which I didn't expect. I began using Pure Emu Oil on my abdomen for a condition called Spastic Colon. I found that applying emu oil topically, as an anti-inflammatory treatment, worked wonders for the pain I experienced with this condition. I had been using emu oil for about a year when I noticed that my old stretch marks and abdominal scars had diminished.
I was very surprised because my stretch marks were at least 14 years old, the scar from my appendectomy was over 20 years old, and the scar from my hysterectomy was about 12 years old. I'm a small women, only 5 foot 2 inches tall and 100 pounds, so after two major abdominal surgeries and four pregnancy's, with babies ranging from 7˝ to 9 pounds, my stomach looked like a road map of scar tissue. I hadn't expected the emu oil would help with such old scars so I wasn't even watching for that type of results.
I still use emu oil often and I continue to see improvements for both conditions. My stretch marks and scars are never going to completely go away but I'm sure glad that emu oil has helped improve their appearance. I can once again feel comfortable in a two piece swim suit. Thank you emu oil!
I'm not alone in my experience. Many people are finding the same results. I would urge you to give emu oil a try and see for yourself how effective emu oil can be in the treatment and prevention of stretch marks and scarring.
Susan Wright
President / Uniquely Emu Products, Inc.
Learn More About Using Emu Oil For Scars
The Oil From Flightless Emus May Heal Scars
Burn Study Results - Compiled from research by Harner Burn Center